Alta Badia 🇮🇹
Wed, Jul 1, 2020 4-minute read
Yesterday I entered Italy and left the German-speaking nations behind; or so I thought until I encountered a very strange dialect of German in South Tyrol. My tent finds itself located in Colfosco among the peaks of the Dolomites.
I have a nice selection of panoramic photos and drone footage among mountains and a nice hiking tale to tell, but let's also not forget the drive that brought me here!
Düsseldorf to Colfosco
Setting out on 27/06/2020 I ventured to make my final human contact with loyal ex-colleague James Conolly in Munich. After a couple of days enjoying the final comforts of a pull-out sofa-bed I set off for Italy.
Driving through the Austrian Alps is always fun, and I made sure to make the most of it by being stingy and taking the toll-free road between Innsbruck and the Italian border. One of the major benefits of this route is being able to see the toll road, which at one point is an obscenely high bridge crossing two local peaks.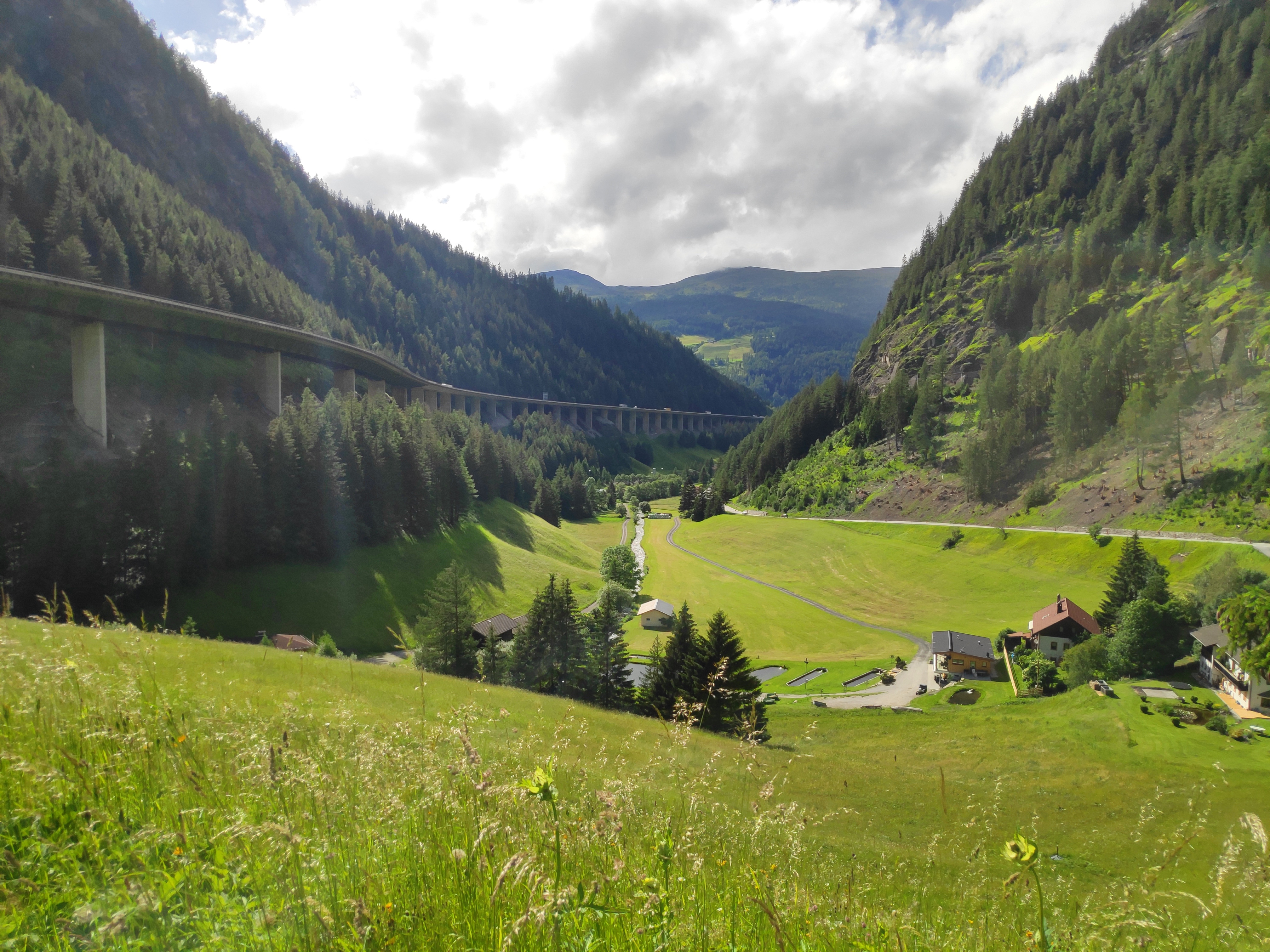 Then out of nowhere appeared the Italian border! A further 90 minute drive through what still looks a lot like Austria brought me to Colfosco Camping in Alta Badia.
Alta Badia
A region among the Dolomites in South Tyrol, Alta Badia is mostly geared up for the ski season. I pitched up at a largely empty campsite called Colfosco Camping, I suspect the emptiness owes largely to the ongoing Coronavirus issue.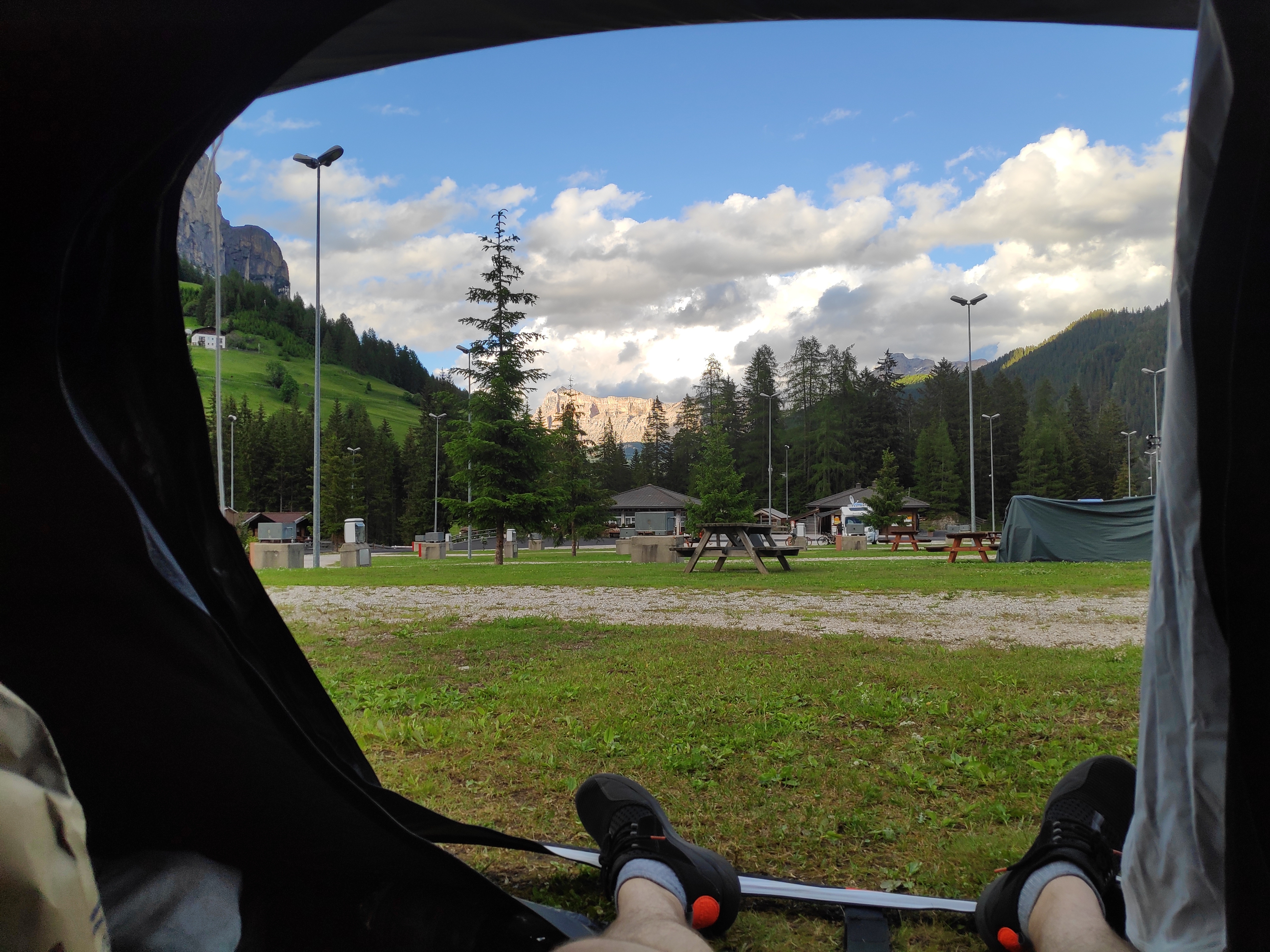 It is perfectly situated for a number of great hikes, only minutes from the foot of 3 different peaks. Given my slightly questionable fitness levels today I decided tackle the less mountainous area next to Corvara. I forgot to start Strava but I did manage to draw the approximate route below.
Although still challenging, the whole route was a well-maintained series of footpaths going from peak to peak in the area.
And of course no scenic trip would be complete without disturbing the peace by flying my drone around. The wind at the top made it challenging to fly, but on the way down I managed to find a very picturesque viewing spot from which to fly.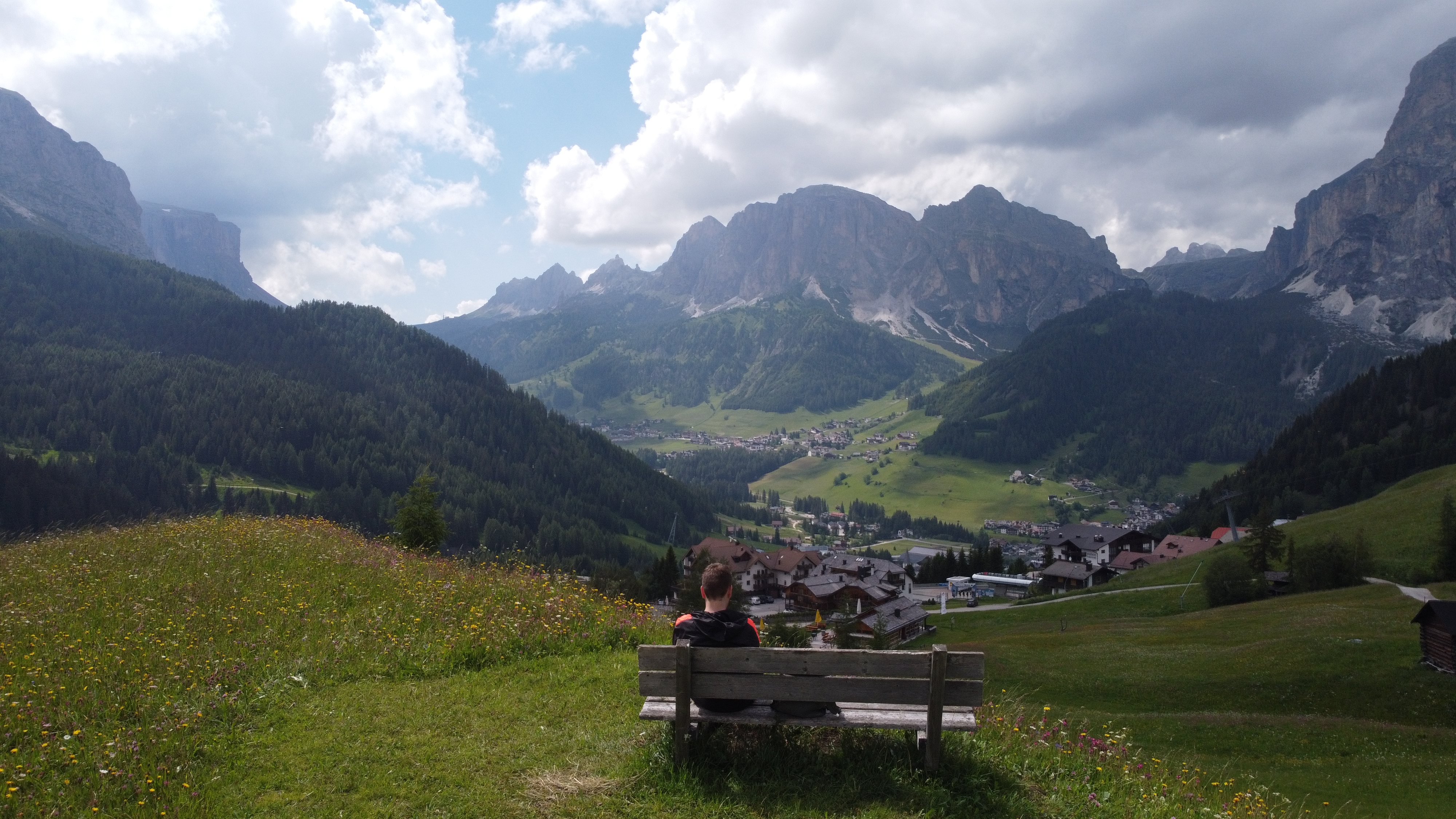 Alta Badia to Canazei
On the second day of camping the weather started great and I decided to do a short hike up to Cherz.
I found a really nice hill with a panoramic view of numerous mountains around, and of course I managed a drone selfie.
As I stood on the hill I heard thunder ring out, at which point it was clear I needed to get to some shelter quite quickly. I ran back down to the refuge and sat for about 30 minutes enjoying quite an intense thunderstorm.
At this point it was clear to me I didn't want to spend another night camping in stormy weather only to drive to Verona the next day, so I quickly booked a room at a nice place in Canazei.
This was by far the best choice I could have made as the drive there was stunning. I drove out of Colfosco up the mountain and encountered mountain after mountain and incredible panoramic views. Finally when I hit the top of one pass I decided it was time to walk up to another peak and take more footage. Although I was scared of losing my drone to high wind, hopefully you'll agree the brief video I did manage to get was quite beautiful.
What's Next?
Tomorrow I will drive to Verona after making a quick stop at Lake Garda. I'll be staying at The Hostello and checking out the city for 2 days.
If you want to keep up to date with my travels then please do consider subscribing to email alerts!